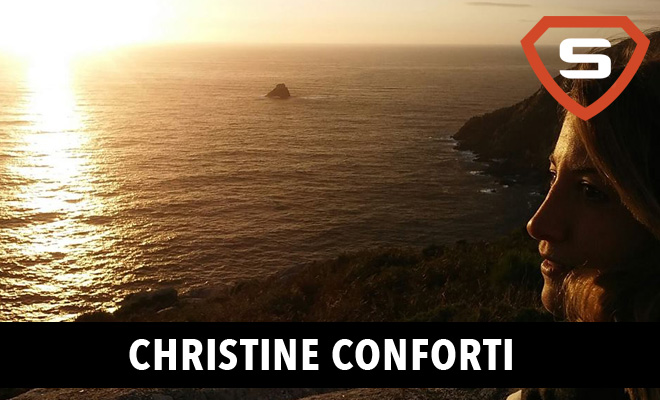 The Modern Nomad: 8 habits to maximize your energy, simplify your lifestyle and expand your world.
|
Podcast: Play in new window | Download
Subscribe: Apple Podcasts | RSS
Our guest for today is Christine Conforti, a professional life coach and an entrepreneur. She has a unique way of blending the mindful approach to life with the business skills, and is joining us here to share her views on both.
One with Nature
Harmony with the Elements
Christine sees life in its shining simplicity. Our creative energy is trapped by the mental, which itself is dependent on physical health. Tapping into our creativity pool follows this very line, and the one way to attain the desired level of mindfulness is by connecting, or rather, reconnecting with nature.
Optimizing the Habits
Besides clean eating, Christine holds that each of us can implement a set of daily habits that will ultimately better our lifestyles. She puts an emphasis on her mornings, taking them slow, meditating for several minutes and bringing to surface all the fears, doubts, and desires that might lurk beneath. It's a form of inner-exploration that prepares her for a successful, high-performance day.
Expressing Yourself Sexually
Just as your body needs to be fueled by really rich nutrient foods, it also needs to express itself sexually.
One of the less talked about impediments to productivity is the unhealthy articulation of sexual energy. Rather than regarding it as a separate drive, Christine holds that we should embrace our sexual energy, harvest its unlimited potential for creativity. Indeed, healthy expression of sexuality is one of the main pillars forming Christine's eight-habit coaching program.
Nature as a High-performance Tool
Asked about the things she had to change in order to become such a high-performer, Christine admitted the business came easy for her, that "there's nothing really that I did differently in my day-to-day except being so immersed in nature".
This seamless connection to nature is the driving force beneath human creativity and energy production. Christine, oddly enough, sees the modern world of technology and the default, cagey lifestyle as the biggest challenges facing the entrepreneurship of today.
The Flow of Things
Christine encourages us to go out in nature and find our own inspiration and the peace of mind. For her it's the beach, being near the ocean at all times. Her state of flow is established by those slow meditative mornings coupled with multiple breaks spent walking or doing yoga. In general, Christine suggests that we should listen for the ticking of our inner clocks. She also has little personal objects carrying special meanings, meanings that signal her openness to Universe and to herself.
Improving our lifestyle is only possible through self-examination. To help you start down the road, Christine has created an online reflection tool based on eight areas of life that would make you think or rethink your connection to nature.
Make sure to check out…