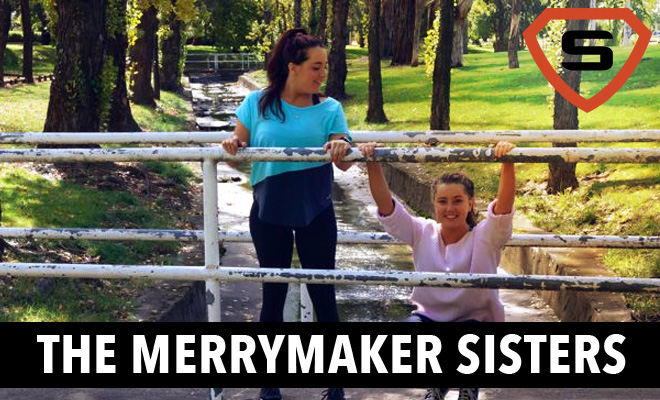 The Merrymaker Sisters Inspire Healthy Eating Habits Through Positive Reinforcement and Delicious Recipes
|
Podcast: Play in new window | Download
Subscribe: Apple Podcasts | RSS
We have two guests today, Emma and Carla Papas, otherwise known as the Merrymaker Sisters. These Australian siblings love connecting with people all over the world to share their delicious Paleo-friendly recipes and inspire healthy habits.
As we face so many temptations from the big food industry to eat unhealthily, we end up feeling a tremendous amount of guilt when we don't end up eating well. Emma and Carla themselves struggled with an unhealthy relationship with food since their teenage years, leading to lots of dieting.
When one of the sisters found out she had gluten intolerance, she got tipped off to the Paleo diet. She lost 22 pounds, had clearer skin, shinier hair and – most importantly – more energy.
Both sisters embraced this new approach to eating and discovered they had no more anxiety about their diet. Suddenly things seemed so simple — cut out the packaged crap, sugar, grains and dairy.
The sisters realized they had more energy and brain space to think about other things, so they quit their government jobs and set out to "merrymake the world" with their website themerrymakersisters.com.
Taking a Personalized and Positive Approach
The Merrymaker Sisters stress that the best way to approach Paleo eating habits depends entirely on personal preference. While some people thrive on making a dramatic change all at once and going "cold turkey," other people can take a full year to transition to new eating habits, and both approaches work great.

What's most important is to create a positive energy around food because sometimes stress can cause more damage than the food you're eating. This approach should apply even when you make an exception or have a special treat. You can put positivity around that experience by owning your decision and enjoying yourself. And then make your next meal something awesome and good for you.
It's also key to remember that a being healthy isn't entirely about diet; it's about lifestyle. Adding positive habits like meditation and other things that you love doing into your life help you to eat better, as well. In the case of the Merrymaker Sisters, they hated their jobs, so they turned that into a positive life change by working out their plan for leaving the workforce and dedicating themselves full time to their website.
The Merrymaker Sisters' Affirmations List:
Emma and Carla assert that affirmations changed their lives, especially when it came to counteracting negative body image. And while everyone backslides and is mean to themselves at times, it's all about how fast you come back from falling back.
I choose to eat food that will nourish my body and make me feel my best.
The time is now and I spend my time doing things I love.
I say yes to adventure, dreams, laughter and fun.
I follow my purpose.
Life is too short to say no to dessert; I just make mine merry.
I choose peace, in both internal and external interactions.
What I focus on grows.
This is my life; this is my time.
 I share my happiness with the world
I am grateful.
I deserve epic, amazing, magical love
I am blessed to exercise each and every day.
Merrymaker Sisters' Tips For Long-Term Sustainable Transformation
Knowledge is power. Read articles ans listen to podcasts so you have more to back you up when you when you come across people who don't support you.
The destination is the journey, so enjoy yourself. Don't always focus on the end goal because now is all you have.
You can learn so much, but it's all about the action you take afterward. Set goals and then take the steps to get there.
Earning money isn't taboo or dirty. The more you earn, the more you can give.
Make sure to check out…