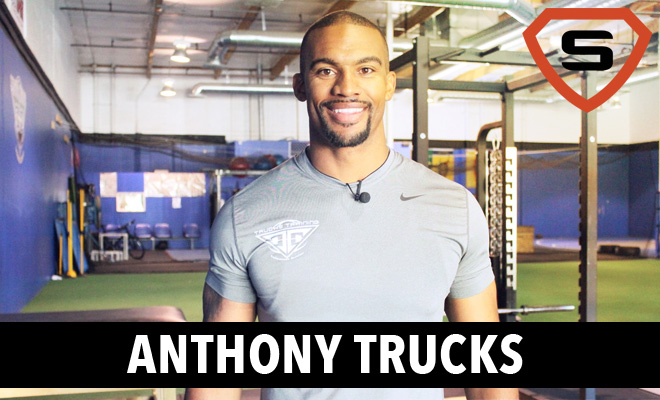 How "Trusting Your Hustle" Leads To Happiness and Success with Anthony Trucks
|
Podcast: Play in new window | Download
Subscribe: Apple Podcasts | RSS
Today's guest Anthony Trucks is a devoted father of three, and a former NFL player and hugely successful gym owner. Now he's using his vast and profound experience to teach other entrepreneurs how to find the confidence and clarity they need in order to achieve massive breakthroughs in their own lives.
Despite his many achievements, Trucks believes that the epitome of success is when you're happy every day; when you get to the place where the destination is the journey and you wake up every day loving life, you've officially made it.
Overcoming Childhood Adversity
The fact that Anthony has achieved such a high level of both personal happiness and professional success is simply amazing when you consider where he came from. His very first memory is of his mother crying and handing him off to the foster care system with his three siblings.
What followed was three years of abuse as he moved from one foster home to another. This created deep feelings of uncertainty and not being worthy, which – interestingly enough – Trucks likens to the feelings an entrepreneur has when he or she first ventures out on their own. For this reason, he traces his entrepreneurial roots back to the age of three.
Learning How To Trust Your Hustle
Anthony was eventually adopted into a loving family, but still struggled with feelings of not belonging. But he turned things around at the age of 15, when he became determined not to use his history in foster care as an excuse and instead decided he wanted to be great. This is when Anthony had the epiphany that it's what you have inside that makes you get things done, and you have to trust your hustle.
At that moment, Anthony became his own technician and made a choice to use all the tools he had to be great at football. He got a scholarship and joined the NFL…but eventually a torn shoulder ended that career, leading to another pivotal moment in Anthony's life when he asked himself, "Who am I now?"
The answer came with opening his own gym. Anthony had no clients, no business plan and 8,000 square feet of space. He should have failed, and he came close. But then he spent his last $4,000 on a consultant, who taught him how to be resourceful and how to build the business exponentially. From there, the gym became enormously successful, and Trucks himself landed a six-figure consultant contract and was featured in the Wall Street Journal.

The Role of Empathy and Compassion
Despite his tumultuous early years, Anthony was lucky enough to be adopted by a mother who loved him deeply and unconditionally. When she died of MS after he had grown into a highly successful adult, he realized that his seemingly impossible ability to beat the odds of his circumstances was due to his mom's influence on him to have unconditional love, empathy and compassion.
Trucks strongly believes that true entrepreneurs aren't in it for the money, but for their impact and legacy. He is therefore determined to create an impact on other people who will create an impact.
The Trust Your Hustle Three-Step Framework
Anthony's Trust Your Hustle three-step framework is a fairly straightforward process of See, Sacrifice and Sustain.
Build habits outside of your comfort zone to create new comfort zones.
Do a time audit to figure out where you're needlessly wasting energy and time.
Have an innate trust that if you want it, you'll find a way to figure it out – this is trusting your hustle.
Find your LIFT, or life inside for triumph. This is the deep need that drives your actions and elevates your soul. For Anthony it's a need to matter based on his childhood – this comes from truly helping people, but is grounded in a selfish desire. This is true human nature: You have to give to get.

Daily high performance hacks
Set boundaries and gets things out of your head.
Anthony maintains strict timeframes for each task and doesn't work outside of those timeframes. This allows him to breathe more easily and be more present, both personally and professionally.
Find the things that are most important and focus on those.
You'll never actually have time to get everything done, so put things aside and don't think about them until you have the time to do them.

Make sure to check out…