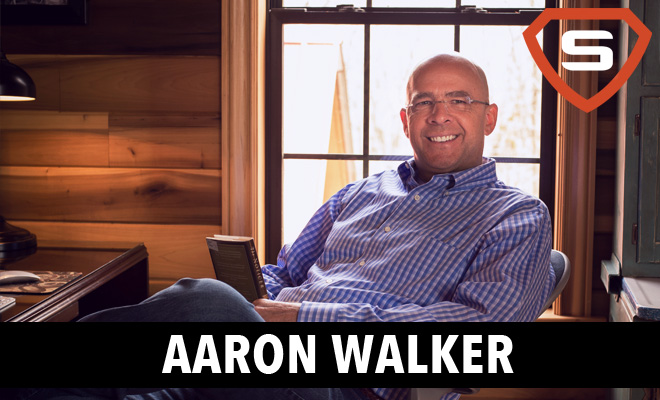 Aaron Walker: From Ordinary to Extraordinary
|
Podcast: Play in new window | Download
Subscribe: Apple Podcasts | RSS
Today's guest Aaron Walker started his career as an entrepreneur at 13. Nearly 40 years later he's run over eight businesses and sold some of them to Fortune 500 companies. These days Aaron focuses his efforts on helping ordinary men become extraordinary.
During our conversation he shares with us the following priceless information:
The truth about the relationship between money and happiness
The importance of significance
Why you need to subject yourself to scrutiny
Money and Happiness
From the point of starvation to about $70k/year, money can make you happy. Afterwards, any additional money you earn will bring you minimal happiness. While money is nice and can do tremendous things for you, it should not be your primary objective.
The problem with attaching your identity to tangible possessions is that when you lose them, you become devastated. Money and possessions should be the means by which you live your life, rather than what you live your life for.
A major trap a lot of entrepreneurs fall for is working towards a monetary goal and thinking about happiness in terms of "when" (e.g. I will be happy when I earn XX amount). Instead of focusing on "when", we need to learn to enjoy today and enjoy the now. The key is to learn to be content, but not complacent.

Free download of 25 Questions to Get the Life You Want and Steps to a Productive Day
Significance
Your family and the relationships you build are central to your success. You can chase after your dreams, but don't forget significance. Make a concerted effort to pay more attention to other people and help people who can't repay you. You'll find that if you do so, you will be much more successful and significant at an early age.

Subject Yourself to Scrutiny
We are only able to view our world through a single lense. Subjecting yourself to the scrutiny of others may be a painful process, but it is vital to personal growth. When you let your veil down and show others the real you, you will gain strength and excel in your success and significance.
View from the Top
Through his company View from the Top, Aaron has created an online community for men who want to grow and excel in light. Membership is just $37/month and includes a live webinar every week, a community forum, and other resources.
Aaron is also generously sharing with Superhuman Entrepreneur Listeners two assessment worksheets he uses with clients: 25 Questions to Get the Life You Want and Steps to a Productive Day.
Click here to download them or use the link in the resources section.
Aaron's Morning Routine
Prepare the coffee pot the night before
Go to bed
Wake up between 4am and 5am
Spend 10-15 minutes drinking coffee and water
Spend 1 hr to 1.5 hours on prayer lists
Read scripture, listen to praise and worship music
Meditate for 15 minutes
Make sure to check out…
Free download of 25 Questions to Get the Life You Want and Steps to a Productive Day
Halftime: Moving from Success to Significance by Bob Buford
Invisible Selling Machine by Ryan Deiss
Thou Shall Prosper: Ten Commandments for Making Money by Rabbi Daniel Lapin
How to Win Friends & Influence People by Dale Carnegie
Essentialism: The Disciplined Pursuit of Less by Greg McKeown
Mindset: The Psychology of Success by Carol Dweck